Here, I would like to introduce the details about Asakusathat is located in Taito-ku, Tokyo, and one of the most famous tourist spot in Tokyo.
This is the 11th "Demon Slayer" Real life Locations on the list.
To check out the lists, please click here↓
12 Spots "Demon Slayer" Real life Locations in Japan (Kimetsu no Yaiba)
What is Asakusa?
Asakusa is located in Taito-ku, Tokyo, and famous for many Buddhist temples such as the Senso-ji and traditional festivals. Besides temples, there are various tourist spots where you can feel Japanese culture. Also, it's very fun to try the food at various restaurants there.
Even for those who are not Demon Slayer fans, Asakusa is easily accessible and the best place to visit for fun!
Why Is It Real life Locations?
In Demon Slayer, Asakusa is the place where Tanjiro meets Muzan Kibutsuji for the first time who is producing demons and said to be Tanjiro's greatest enemy.
Cityscape, udon shop, and landmark tower of Asakusa as depicted in the story are images of Asakusa area in the Taisho era, so they are no longer exist in modern times. However, you should be able to experience the atmosphere of the story by looking around the town and feeling the downtown atmosphere of Asakusa.
鬼滅の刃7話感想
開幕歯ぎしりやめてくれ
鬼舞辻無惨の名前を出しただけであの怯えよう
相当ヤバいやつに違いない・・・
さすが浅草都会だな
山育ちの炭治郎はそんな顔になるよね
寝ながら歩く禰豆子可愛い✨
うどん屋の店主を鬼だと疑ってしまったw
鬼舞辻無惨出た!
本当に人を鬼に変えた!! pic.twitter.com/nU1XSaREaR

— 💮桜華💮 (@animedaisuki_ng) May 19, 2019
What Is the Highlight of Asakusa?
You can take your time sightseeing around Asakusa in only one day actually. But keep in your mind that there might be really crowded in holidays and weekends.
Kaminarimon (雷門)
There is Kaminarimon at the entrance of Sensoji temple. Many of Japanese consider the really big red lantern as the landmark of Asakusa. They like to use this place as a meeting place, and a lot of tourists like to take a picture in front of this red lantern. Here should be starting point of Asakusa sightseeing!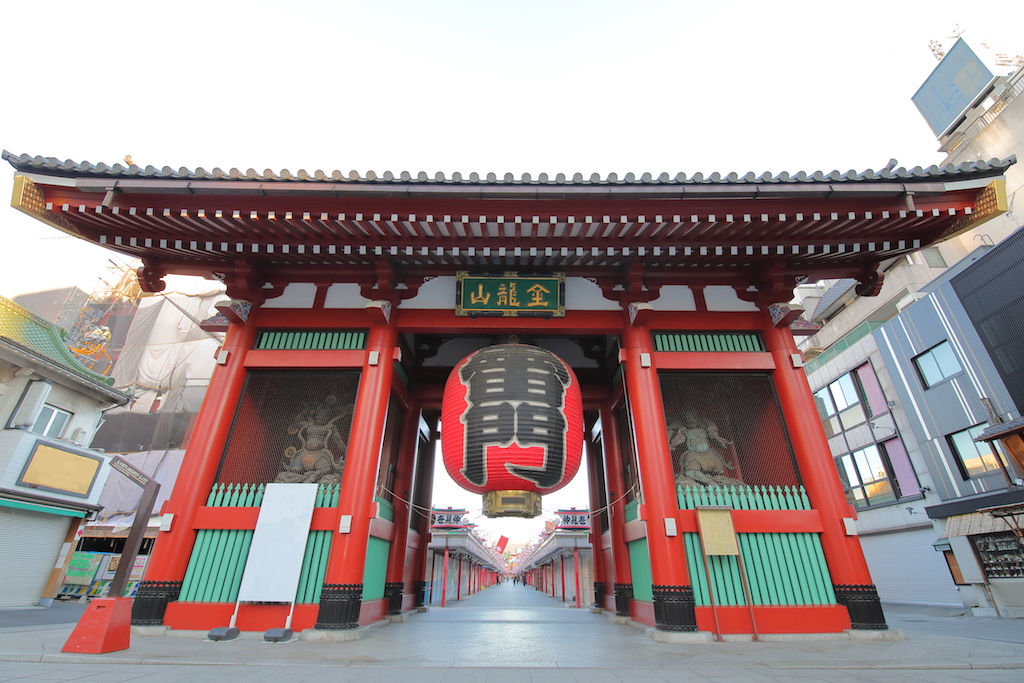 Nakamise Road (仲見世通り)
When you enter the Kaminarimon, you will find nakamise road that has prospered since the Edo period.
There are about 90 shops on the east and west side of the road selling souvenirs and Japanese sweets.
Image of nakamise in the Taisho era is described in Demon Slayer story. Although it's a little different from the current landscape, you may feel the atmosphere of the story.
録画した鬼滅の刃見たけど、浅草の描写が素晴らしい。
ウチにある古写真で比べて見てみた。

舞台は大正時代なので凌雲閣(浅草12階)やまだ雷門がない仲見世通りの入口近辺。

仲見世の、この左側にある塔の建物は牛鶏肉店常盤堂です。#鬼滅の刃 #ジャンプ #浅草 #アンティーク pic.twitter.com/1agnyruQC4

— ペガサス(PGS) (@Hks77HBfefLxwIb) May 20, 2019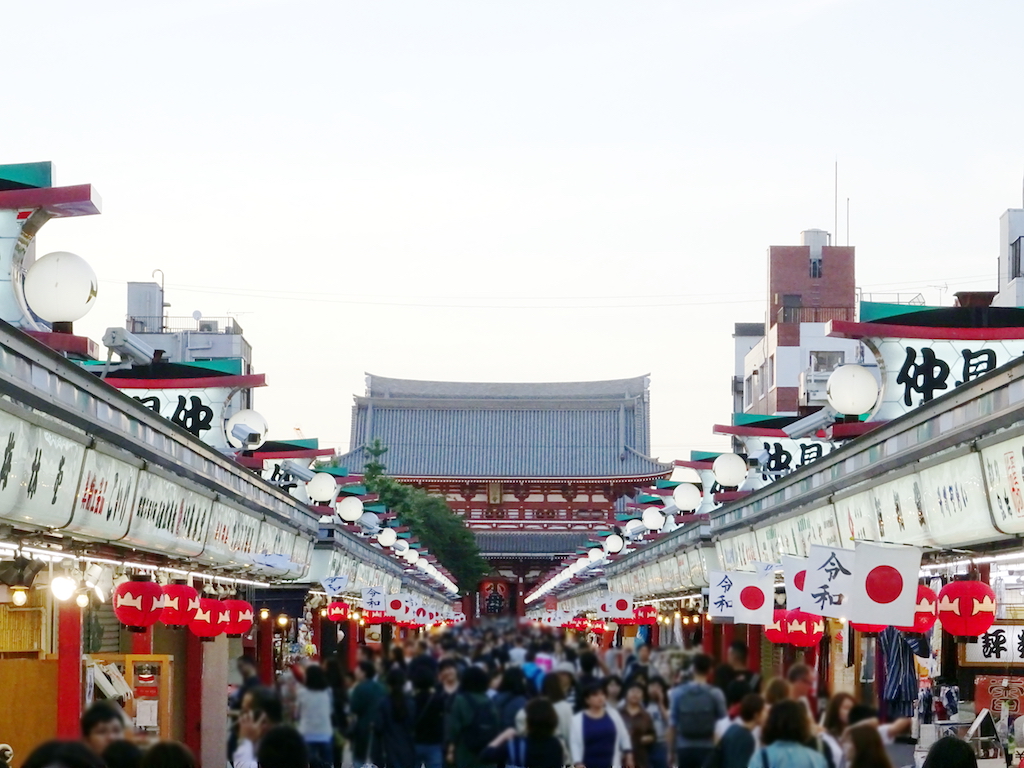 Sensoji Temple (浅草寺)
If you go passed nakamise road, Sensoji temple is just there. The original old temple was designated as a national treasure, but it was burnt down in the bombing of Tokyo in 1945. The current main hall was later rebuilt and is made of reinforced concrete.
The Omikuji (fortune-telling paper strip), which can be run right next to the main hall, is also written in English so that even overseas customers can enjoy it.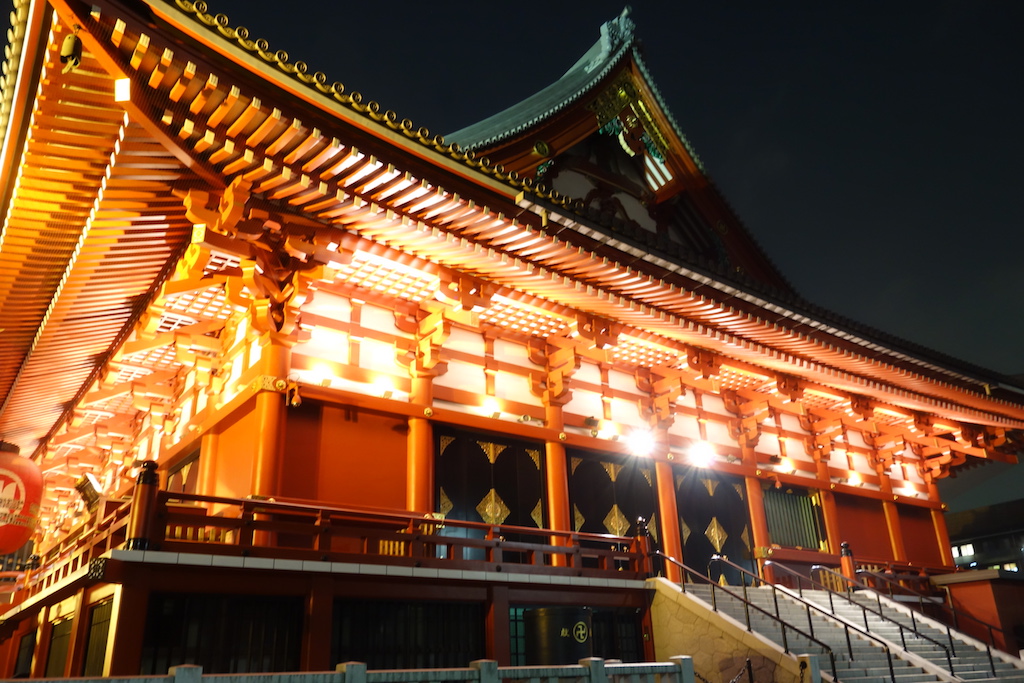 Sky-tree (スカイツリー)
Tokyo Sky-tree is opened in May 2012. It's a broadcasting and observation tower, and has a height of 2,080′ (634m). From the observatory, you can fully enjoy the cityscape of Tokyo.
By the way, you can take a train from Asakusa station to Tokyo Sky-tree station. Also, you can walk from Asakusa to the tower taking about 15 minutes.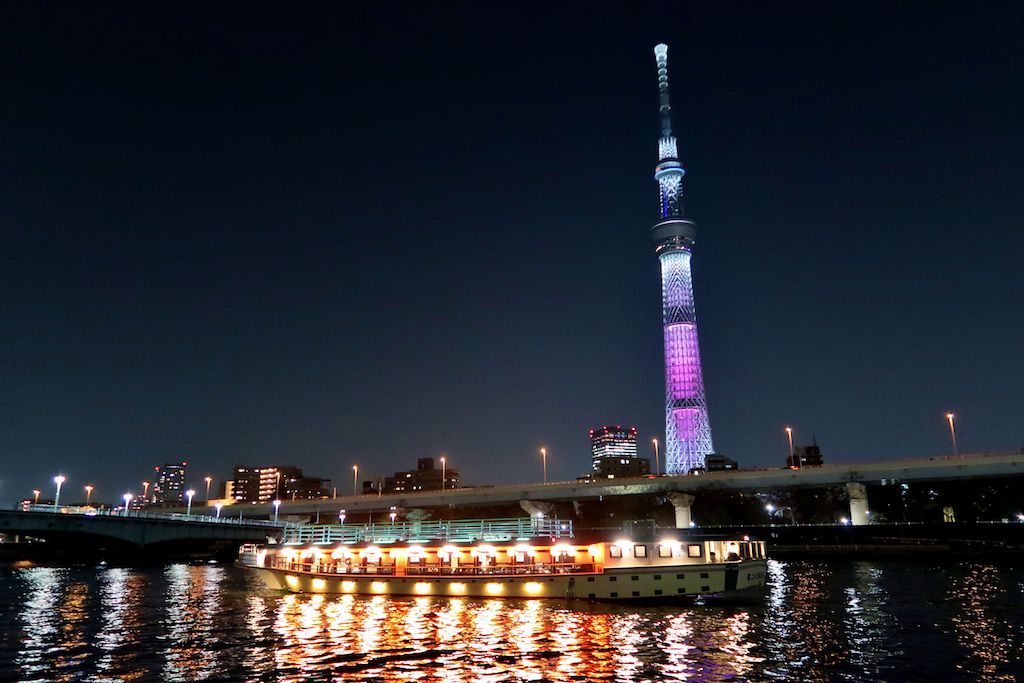 Asakusa Hanayashiki (浅草 花やしき)
Hanayashiki is famous as Japan's oldest amusement park opened in 1853. It seems that swings were the only playground equipment in the Edo period.
This place is nostalgic and has mysterious world view, and even adults can enjoy playing there. The oldest roller coaster currently standing in Japan is definitely the must-ride attraction!
浅草花やしきに行ってきました pic.twitter.com/bGuyYZJRsG

— 遊園地を大切にしたい高所恐怖症の会@としまえんを忘れない🎢🎠🎪🏰🚂 (@vsd4e86x91rHf4R) November 12, 2020
Basic Information of Asakusa
・Address: Asakusa, Taito-ku, Tokyo
The official website of Asakusa Tourism Federation [English]
Transport / Access to Asakusa
How to get to Asakusa station from Tokyo station
1. Take the train:Tokyo Metro Marunouchi Line bound for [Ogikubo (荻窪) or Honancho (方南町)] departs from [JR Tokyo station (JR東京駅)].
2. Get off at Ginza station (銀座駅)
3. Take the train:Tokyo Metro Ginza Line bound for [Asakusa (浅草)] departs from [Ginza station (銀座駅)].
---

Besides Tokyo Metro Ginza Line, there are several train lines that reach Asakusa station which is the hub of Asakusa sightseeing.
・Tobu Sky-tree Line 東武スカイツリーライン(The official name is Tobu Isesaki Line 東武伊勢崎線)
・Toei Asakusa Line 都営地下鉄浅草線
Tsukuba Express also has the station named "Asakusa", but this Asakusa station is about 0.3 mile (600m) away from the one above.