1. 2 Delish Sandwich Breakfast & Matcha Smoothie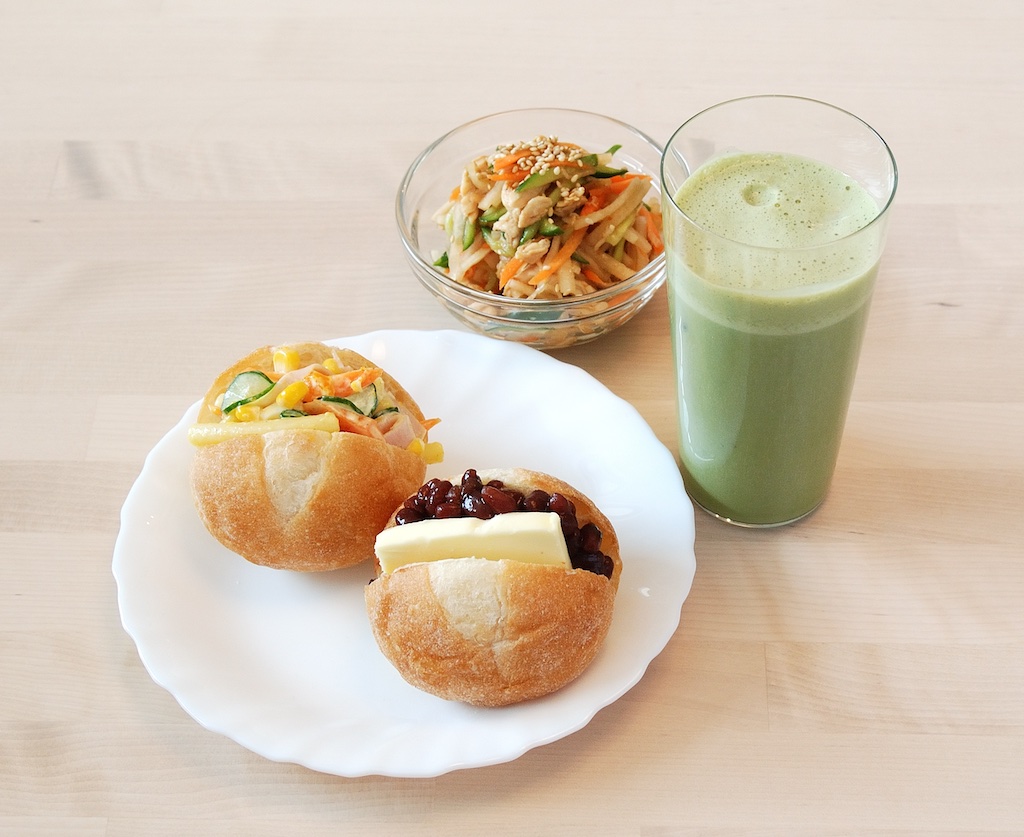 Ingredients
・Your favorite bread
Macaroni salad sandwich (Easy-to-make quantities)
・3.5 oz (100g) Macaroni
・A pinch of Salt
・2.8 oz (80g) Cucumber
・A pinch of Salt
・1 oz (30g) Carrot
・1/2 tsp Oil
・1 oz (30g) Ham
・2 Eggs
・3-4 tbsp Canned corn
・3-4 tbsp Mayonnaise
・A pinch of Salt and pepper
Anko & butter sandwich
・Anko (Sweet bean paste)
・Butter
Chicken salad (Easy-to-make quantities)
・3.5 oz (100g) Chicken tenders
・1-2 tsp Sake
・A pinch of Salt and pepper
・1 tsp Soy sauce
・1/2 tsp Sugar
・4.6 oz (130g) Daikon
・2.8 oz (80g) Cucumber
・1 oz (30g) Carrot
・2 tsp Miso paste☆
・2 tsp Ketchup☆
・2 tsp Rice vinegar☆
・2 tsp Sugar☆
・1.5 tsp Soy sauce☆
・1.5 tsp Worcestershire sauce☆
・1 tsp Sesame oil☆
・A pinch of Chili pepper (Ichimi-togarashi or Nanami-togarashi)☆
Matcha smoothie (1 serving)
・1.7 oz (50g) Banana★
・0.3 cup (70ml) Milk★
・2 oz (60g) Yogurt★
・2 tsp Matcha powder★
・2 tsp Kinako (Roasted soybean flour)★
・1/2 tbsp Honey★
・Ice★
Direction
1.  [Macaroni salad] Boil macaroni with a little salt. Shred carrot, and stir-fry with a little oil. Thinly slice cucumber, sprinkle salt, and leave it for few minutes until water comes out.
2.  Squeeze water out of cucumber. Make boiled eggs, and mince it. Shred ham. Prepare canned corn.
3.  Mix all the ingredients in a bowl. Put mayonnaise, salt, and pepper. Mix well.
4.  [Chicken salad] Remove tendon from chicken tenders. Mince it, and pour sake, salt, and pepper. Cook them in microwave for about 3 minutes. When it's cooked, pat it dry with paper towel. Season it with soy sauce and sugar. Let it cool.
5.  Shred daikon, carrot, and cucumber. Put chicken and vegetables in a bowl, and mix it ☆.
6.  [Matcha smoothie] Stir all ingredients (★) in a blender.
2. Authentic Japanese Gyoza (Dumplings) & Ramen Soup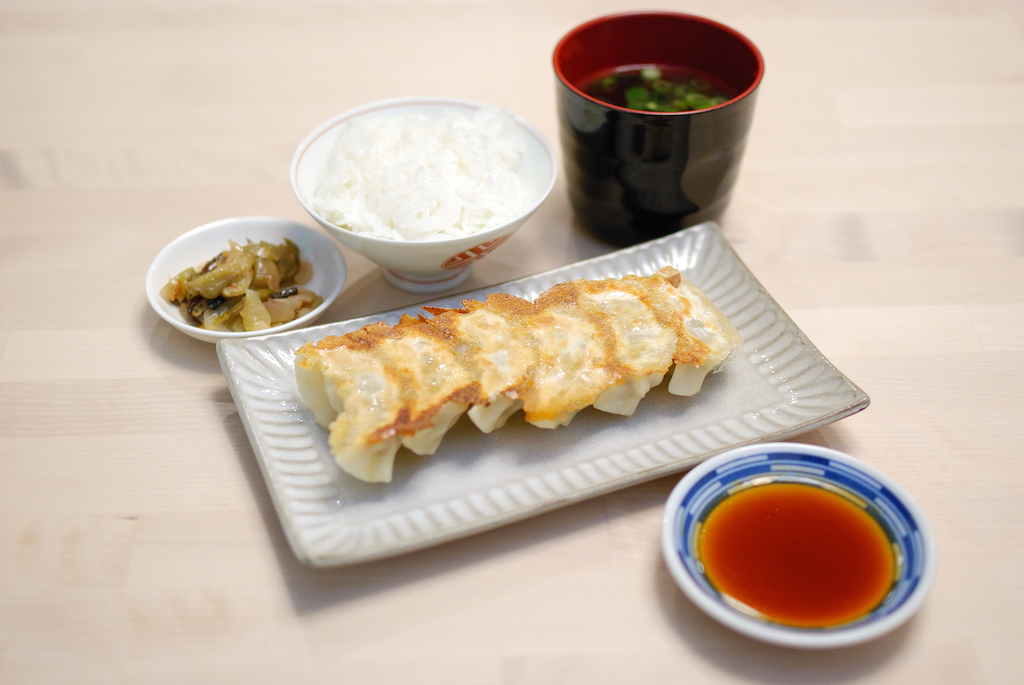 Gyoza
・Gyoza wrappers
・7 oz (200g) Ground pork
・5.3 oz (150g) Cabbage
・1 oz (30g) Green onion
・1 tbsp Soy sauce☆
・1 tbsp Sesame oil☆
・1 tsp Mirin☆
・1 tsp Sake☆
・1 tsp Sugar☆
・1 tsp Chicken stock powder☆
・1 tsp Grated ginger☆
・A pinch of Salt and pepper☆
Liquid for frying gyoza
・0.6 cups (150ml) Water
・1 tbsp Flour
・1-2 tsp Sesame oil
Gyoza sauce
・1 tsp Rice vinegar
・1 tsp Soy sauce
・Ra-yu (Chili oil)
Ramen soup
・1.8 cups (450ml) Water★
・1 tbsp Sake★
・2 tsp Soy sauce★
・2 tsp Oil (White sesame oil)★
・1.5 tsp Oyster sauce★
・2/3 tsp Chicken stock powder★
・A pinch of MSG★
・A pinch of White pepper★
・Minced green onion
Direction
1.  [Gyoza] Mince cabbage and green onion. Pat them dry with paper towel well.
2.  Mix ground pork with ☆. Knead well. Stir until meat is stringy and slightly whitish.
3.  Add cabbage and green onion to the pork. Mix well.
4.  Wrap the meat in the dumpling skin. (Please check the video how to wrap it.)
5.  Arrange the gyoza in the frying pan. Pour the mixture of water and flour. Cover and fry over medium heat for 8-10 minutes until there is only a little liquid.
6.  Remove lid and fry until liquid is gone and crispy crust is formed. Finally, add a little sesame oil.
7.  [Soup] Put all the seasonings (★) for ramen soup in a pot. Bring to a boil and add green onion.