1. Japanese-style Sandwich Breakfast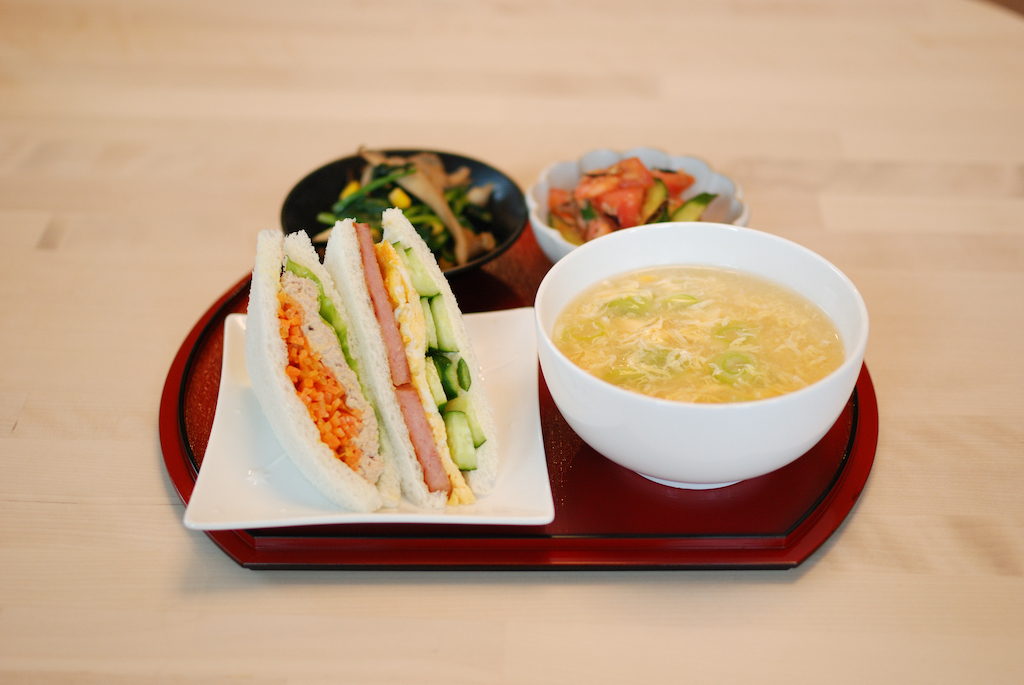 Ingredients (for 2 servings)
・Your favorite Bread
Spam sandwich
・2 Slices of Spam
・1 tsp Soy sauce
・1 tsp Mirin
・1 Egg
・A pinch of Sugar
・Cucumber slices
・Mayonnaise
Tuna sandwich
・2 oz (60g) Carrot
・1/2 tsp Oil
・A pinch of Salt and pepper
・1 oz (30g) Canned tuna
・1-2 tsp Mayonnaise
・1/2 tsp Karashi (Japanese mustard)
・A pinch of Salt and pepper
・Lettuce
Egg soup
・1.7 cups (400ml) Water
・2-3 tbsp Minced green onion
・2 tsp Sake
・1 tsp Soy sauce
・1/2 tsp Dashi powder (Hondashi)
・1/2 tsp Sugar
・1/2 tsp Salt
・1 tsp Potato starch
・1 tsp Water
・2 Eggs
Tomato & tuna salad
・4.6 oz (130g) Tomato
・2.8 oz (80g) Cucumber
・1 oz (30g) Canned tuna
・1 tbsp Seasoned kelp strips (Shio kombu) 
・2 tsp Soy sauce
・1 tsp Sugar
・1 tsp Sesame oil
・A pinch of Salt and pepper
・1 tsp White sesame seeds
Maitake mushroom & spinach stir-fry
・3.5 oz (100g) Spinach
・1 oz (30g) Maitake mushroom
・2 tbsp Corn
・1 tsp Butter
・1 tsp Soy sauce
・1 tsp Sugar
・A pinch of Salt and pepper
Direction
1.  [Spam sandwich]Fry spam until crisp, and wipe off excess oil with paper towel. Season it with soy sauce and mirin.
Make scrambled egg as you like. Put thin layer of mayonnaise on bread. Put sliced cucumber, egg, and spam on bread. Sandwich with another slice of bread.
2.  [Tuna sandwich]Mix tuna with mayonnaise, karashi, salt and pepper. Fry shredded carrot with oil, and season it with salt and pepper.
Put lettuce leaf, tuna, and carrot on bread. Sandwich with another slice of bread.
3.  [Egg soup]Put water, sake, soy sauce, dashi powder, sugar, and salt into a pot.
When it boils, add the mixture of potato starch and water. Heat for 1-2 minutes, and when it thicken a little, add beaten egg. Stir to combine.
4.  [Tomato & tuna salad]Dice tomato, and cut cucumber into bite-sized pieces. Mix these with canned tuna, seasoned kelp strips, soy sauce, sugar, sesame oil, salt, and pepper. Add white sesame as you like.
5.  [Maitake mushroom & spinach stir-fry]Chop and boil spinach in advance. Cook maitake mushroom with butter. Add spinach and corn. Season them with soy sauce, sugar, salt and pepper.
2. Egg Fried Rice with Lots of Pork and Perfect Soup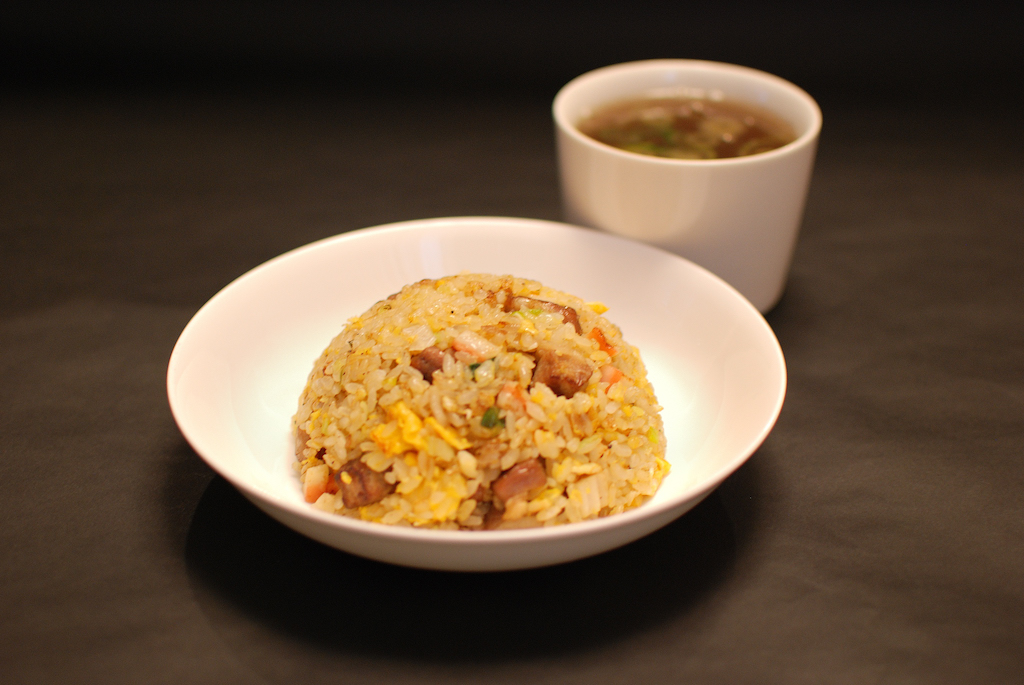 Ingredients (for 2 servings)
・2 bowls of Rice (12 oz / 330g of Cooked rice)
・2 Eggs
・Chashu
・2 oz (60g) Minced green onion
・1 oz (30g) Kamaboko or Naruto (Boiled fish paste)
・2 tbsp Oil
・A pinch of Salt and pepper
・A pinch of MSG
・A pinch of White pepper
Chachu pork
・7 oz (200g) Pork loin (Cut into small pieces)
・1.5 tbsp Soy sauce★
・1 tbsp Honey★
・1.5 tsp Oyster sauce★
・1.5 tsp Sake★
・1.5 tsp Sesame oil★
・1 tsp Grated ginger★
・1/2 tsp Grated garlic★
Soup for fried rice
・1.8 cups (450ml) Water☆
・1 tbsp Sake☆
・2 tsp Soy sauce☆
・2 tsp Oil (White sesame oil)☆
・1.5 tsp Oyster sauce☆
・2/3 tsp Chicken stock powder☆
・A pinch of MSG☆
・A pinch of White pepper☆
・Sliced green onion for topping
Direction
1.  [Quick chashu for fried rice]Season the pork with ★. Leave it for 20-30 minutes, and cook them in a pan (don't pour the liquid). When the color of the pork surface changes, steam it for 3-4 minutes with a lid on. Put in the sauce you've saved. Reduce to a simmer until the liquid is reduced.
2.  [Fried rice]Prepare warm rice, beaten egg, and minced ingredients. Cut chashu pork into small pieces and drain off the juice.
Oil the pan. When it's warmed enough, add beaten egg. Put an egg right away. Use a spatula to coat the rice with egg while pressing the rice into the egg.
Add green onion, boiled fish paste, and chashu. Sprinkle salt, pepper, MSG, and white pepper. Stir to combine. Stir-fry over high heat until rice is dry.
3.  [Soup]Put all the ingredients ☆ in a pot. Bring it to a boil, and add green onion.