1. Salmon Onigiri (Rice Ball) and Egg Miso Soup Breakfast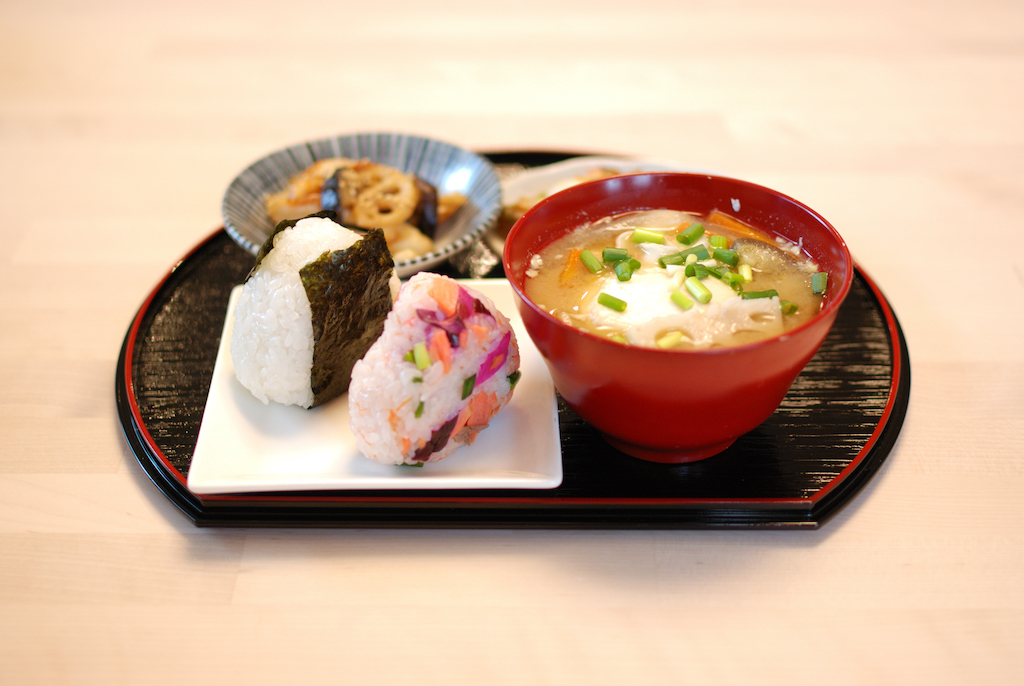 Ingredients (for 2 servings)
Salmon rice balls
・7 oz (200g) Cooked rice
・2.8 oz (80g) Salmon (salted)
・2 tbsp Minced green onion
・Your favorite pickles (minced)
・Nori seaweed (optional)
Egg miso soup
・2 Eggs
・1 oz (30g) Carrot
・1 oz (30g) Onion
・1 oz (30g) Lotus root
・1 oz (30g) Eggplant
・1.7 cups (400ml) Water
・2 tbsp Miso paste
・1 tsp Dashi powder (Hondashi)
・Minced green onion for topping
Chinese cabbage & cheese pancake
・3.5 oz (100g) Chinese cabbage
・1 tbsp Sesame oil
・2 tbsp Seasoned kelp strips (Shio kombu)
・2 tbsp Potato starch
・2-3 tbsp Shredded cheese
Lotus root & eggplant stir-fry
・2 oz (60g) Lotus root
・2 oz (60g) Eggplant
・2 oz (60g) Chikuwa (Boiled fish paste)
・2 tsp Sesame oil
・2 tsp Soy sauce★
・1 tsp Sake★
・1 tsp Mirin★
・1/2 tbsp Sugar★
・1/2 tsp Chicken stock powder★
・1/2 tsp Miso paste★
・1/2 tsp Grated ginger★
・1/3 tsp Grated garlic★
・Chili pepper (as much as you want)★
Direction
1.  [Salmon rice balls]Cook salmon in a pan. When done, remove the skin and bones from the salmon. Make salmon flakes with it. Chop up the pickles and green onion. Mix warm rice with salmon flakes, minced pickles, and green onion. Make rice balls, and wrap it with nori seaweed if you like.
2.  [Egg miso soup]Cut all the vegetables. Simmer it in a pot with water and dashi powder. When they get soft, crack eggs in it. Cook the egg for 1-2 minutes. Dissolve miso paste.
3.  [Chinese cabbage & cheese pancake]Shred Chinese cabbage. Mix it with seasoned kelp strips, and leave it for 5 minutes. When cabbage get soft, add potato starch and shredded cheese. Mix well. Oil the pan. Fry uncovered in a pan for 5 minutes on each side.
4.  [Lotus root & eggplant stir-fry]Thinly slice the vegetables and chikuwa. Stir-fry with sesame oil until soft. Mix ★ ingredients in a bowl, and put the sauce in the pan. Stir to combine.
2. Miso Stew Udon (Miso Nikomi Udon)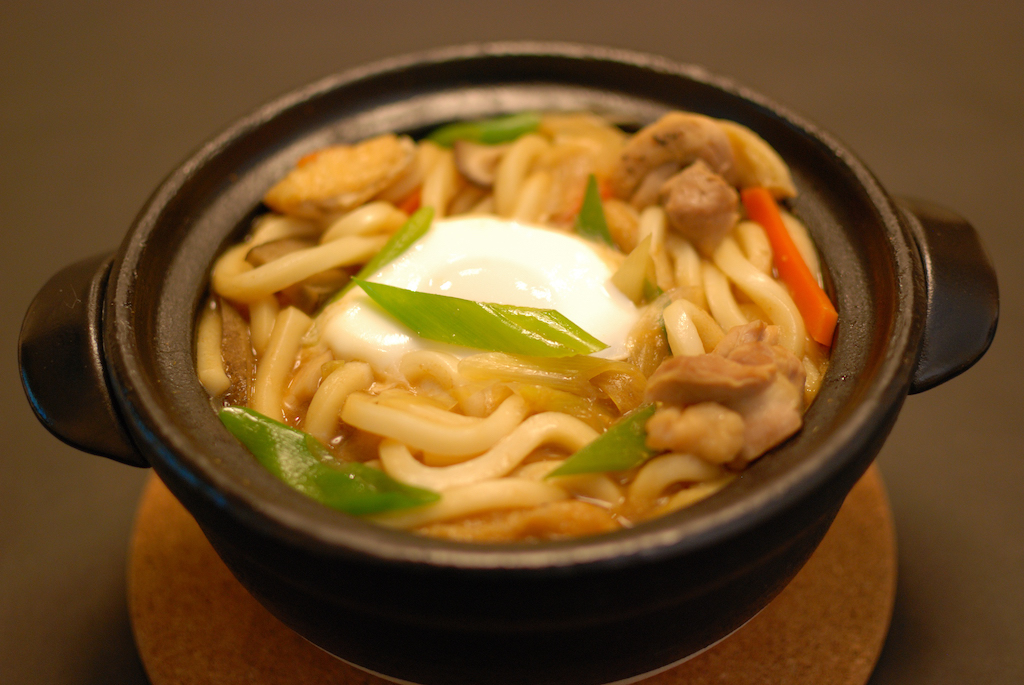 Ingredients (for 1 serving)
・7 oz (200g) Boiled udon
・2.8 oz (80g) Chicken
・1tsp Sake
・A pinch of Salt and pepper
・2 oz (60g) Green onion
・1 oz (30g) Gobo (Burdock)
・1 oz (30g) Carrot
・1 oz (30g) Kamaboko (Boiled fish paste)
・1 Shiitake mushroom
・Half sheet of Thin fried tofu (Abura-age)
・1 Egg
・1.7 cups (400ml) Water
・1 tsp Dashi powder (Hondashi)
・1.5 tbsp Miso paste☆
・1 tsp Sake☆
・1 tsp Soy sauce☆
・1 tsp Sugar☆
・1 tsp Mirin☆
Direction
1. Cut all the vegetables, mushroom, and chicken into bite-sized pieces.
2. In a small hot pot or regular pot, put water. Add dashi powder. Put shiitake mushroom, carrot, and gobo. Simmer for few minutes.
3. In a small mixing bowl, combine all the ☆ ingredients. When the soup boils, add the sauce, white part of green onion, and chicken into the pot. Simmer until ingredients get soft.
4. Boil raw udon noodles. (Place boiled udon noodles in a bowl and pour boiling water over them to loosen them.) Drain off the hot water thoroughly.
5. When the ingredients in the pot become soft, add green part of green onion, kamaboko, and thin fried tofu. Add udon, and simmer for 1 minutes. Crack an egg in it, and cook the egg until your desired consistency.