1. Spam Musubi Breakfast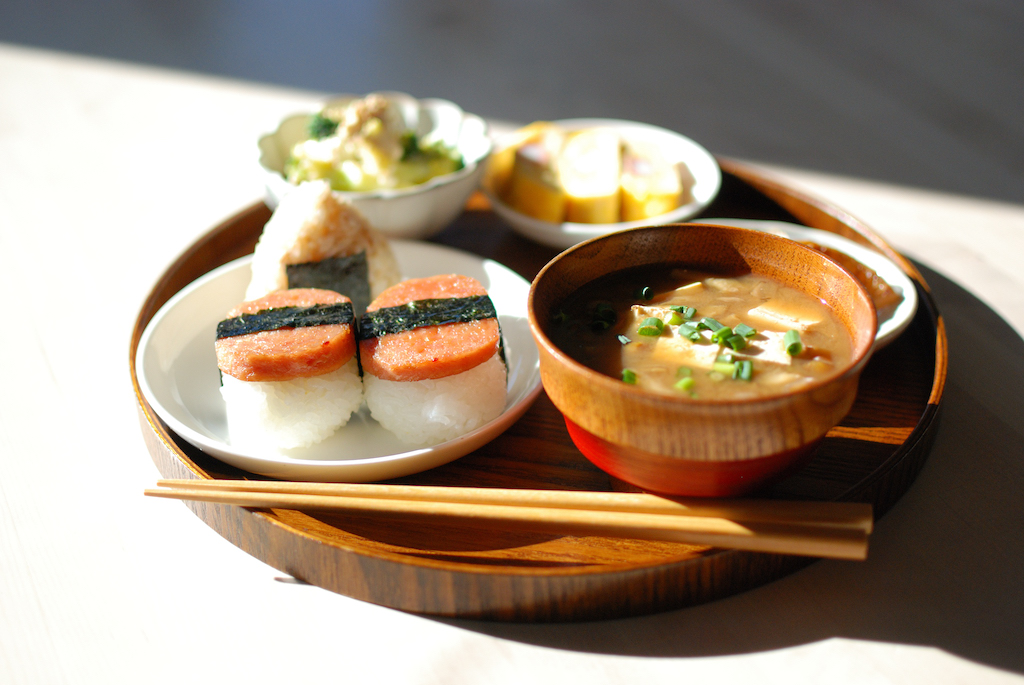 Ingredients (for 2 servings)
Spam musubi & bonito flakes rice ball
・7 oz (200g) Cooked rice
・Nori seaweed
・1.4 oz (40g) Spam slice
・1 tsp Mirin
・1/2 tsp Sake
・1/2 tsp Soy sauce
・2 tsp Bonito flakes
・1/2 tsp Soy sauce
Nameko mushroom miso soup
・3.5 oz (100g) Nameko mushrooms
・1.7 oz (50g) Tofu
・1.7 cups (400ml) Water
・2 tbsp Miso paste
・1/2 tsp Dashi powder (Hondashi)
・Minced green onion for topping
Daikon steak
・7 oz (200g) Daikon
・1 tsp Sesame oil
・1 tsp Butter
・2 tsp Soy sauce
・1 tsp Rice vinegar
・A pinch of Bonito flakes
Broccoli & tofu salad
・7 oz (200g) Broccoli
・6 oz (170g) Tofu
・1 tbsp Minced green onion
・1 tbsp Soy sauce
・2 tsp Rice vinegar
・2 tsp Sugar
・1/2 tsp Sesame oil
Crab meat rolled omelette
・2 Eggs
・1/2 tsp Sugar
・2 Crab sticks
・1-2 tbsp Shredded cheese
・1 tsp Oil
Direction
1.  [Spam musubi]Make spam slices in any shape you like. Cook them until crisp in a pan. Add sake, soy sauce, and mirin. Make rice balls and put spam slice on top. Roll in thinly sliced nori.
2.  [Bonito flakes rice ball]Put rice in a bowl. Add bonito flakes and a little soy sauce. Mix well and make rice balls. Wrap with nori seaweed, if desired.
3.  [Nameko mushroom miso soup]Boil 2 bowls of water in a pot. Wash nameko mushrooms. When the water boils, add nameko. When it boils again, add tofu and heat. Turn off the heat, and dissolve miso paste.
4.  [Daikon steak]Thinly slice daikon. Cook it in a pan or pot until soft. Add butter, soy sauce, and rice vinegar. Stir to combine.
5.  [Broccoli & tofu salad]Cut broccoli into bite-sized pieces. Cook it in microwave, and pat it dry with paper towel. Put them in a bowl, and scoop tofu with a spoon into a bowl. Add soy sauce, sugar, rice vinegar, and sesame oil. Stir to combine.
6.  [Crab meat rolled omelette]Mix egg with a little sugar. Put thin layer of egg liquid in a pan. Put crab sticks and shredded cheese as you like. Make rolled omelette as usual.
2. Sushi Rolls Bento Box (Lunch Box)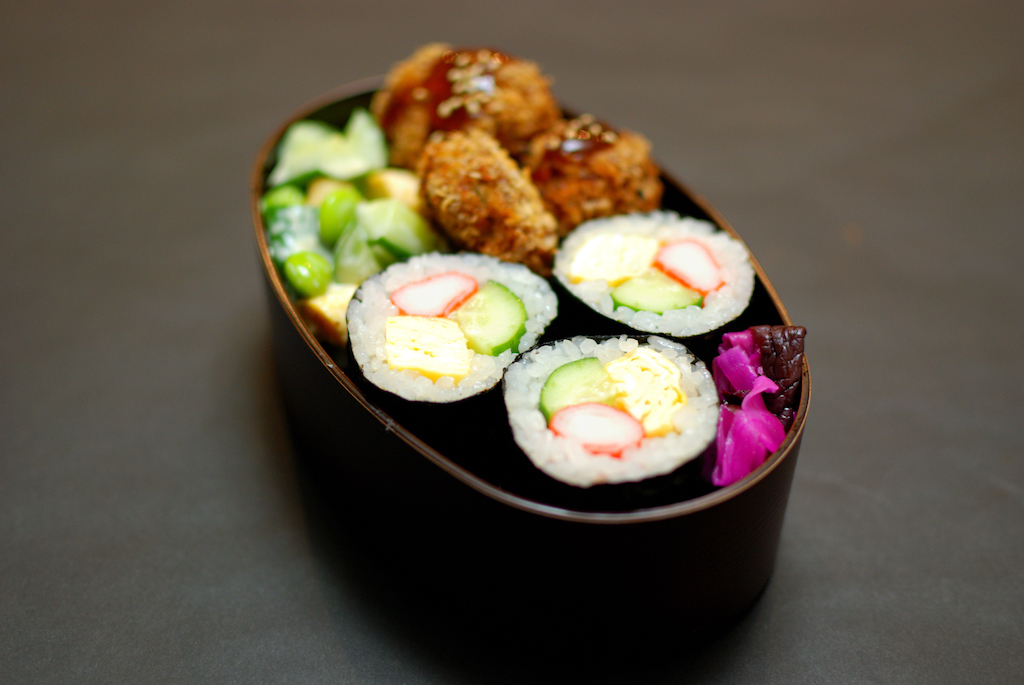 Ingredients (for 2 servings)
Sushi rolls
・12 oz (330g) Cooked rice
・Nori seaweed
・1.4 oz (40g) Cucumber
・6 Crab sticks
・2 Eggs
・1/2 tsp Sugar
・1/2 tsp Oil
Sushi vinegar
・1 tbsp + 2 tsp (25ml) Rice vinegar
・About 1 tbsp (11g) Sugar
・1/2 tsp (3g) Salt
Pork croquette
・7 oz (200g) Ground pork
・2.5 oz (70g) Onion
・1 tsp Soy sauce
・1 tsp Sesame oil
・1/2 tsp Sugar
・1/2 tsp Chicken stock powder
・Panko
・Oil for frying
Salad
・1.4 oz (40g) Cucumber
・Leftover omelet
・Edamame
・1 tbsp Mayonnaise
・A pinch of Salt and pepper
・1/2 tsp Soy sauce
Direction
1.  [Sushi rolls]Make sushi rice by mixing cooked rice with vinegar, sugar, and salt. Those seasonings should be mixed and warmed a little in advance. Make rolled omelette. Cut it into long, thin strips. Cut cucumber as well.
Prepare nori seaweed (big sheet). Put thin layer of sushi rice. Put cucumber, rolled egg, and imitation crab stick on the rice. Wrap from the front. Place a piece of plastic wrap under the nori before working with it to make it easier to roll. Let sit for a while before cutting into bite-sized pieces.
2.  [Pork croquette]Mince onion. Put ground pork in a bowl. Season it with soy sauce, sesame oil, sugar, and chicken stock powder. Knead well until sticky. Add minced onion, and mix well.
Shape it into small balls. Cover them with panko, and fry them in oil for 3-4 minutes on each side.
3.  [Salad]Dice leftover cucumber and omelette. Put them in a bowl, and add edamame. Season them with mayonnaise, a little soy sauce, salt and pepper. Stir to combine.