1. Japanese Chicken Rice Breakfast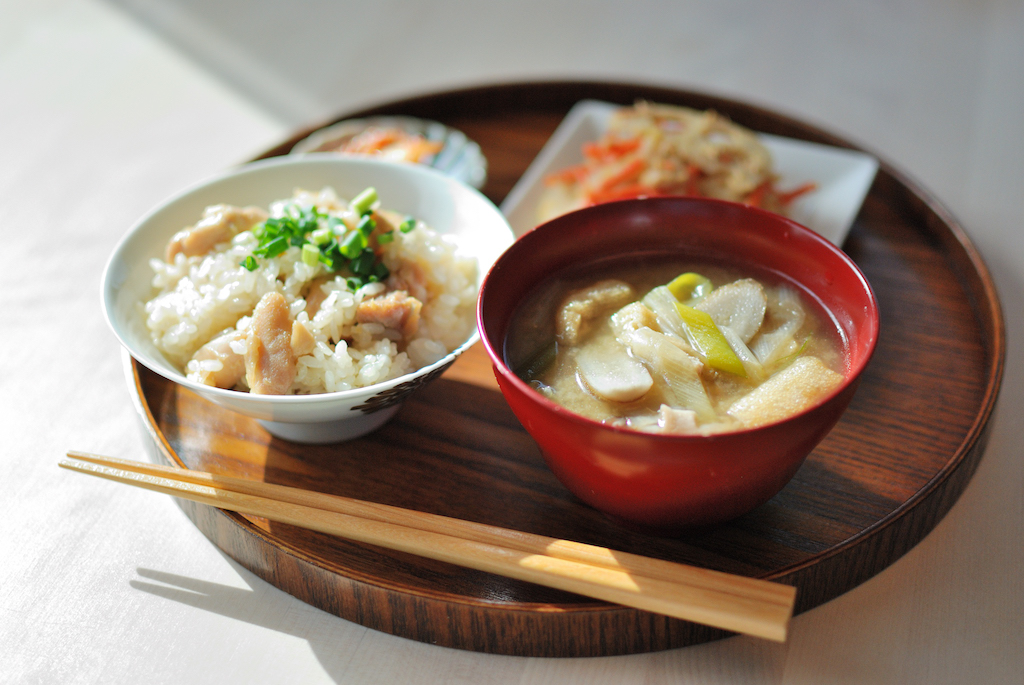 Ingredients (for 2 servings)
Japanese chicken rice
・7 oz (200g) Cooked rice
・5.3 oz (150g) Chicken
・1 tsp Sake★
・1 tsp Soy sauce★
・1 tsp Sugar★
・1 tsp Mirin★
・1 tsp Grated ginger★
・A pinch of Salt★
・A pinch of Dashi powder (Hondashi)★
・Minced green onion (for topping)
Green onion & shiitake mushroom miso soup
・1.7 oz (50g) Green onion
・1 oz (30g) Gobo (Burdock)
・1 Shiitake mushroom
・Half sheet of Thin fried tofu
・1.7 cups (400ml) Water
・2 tbsp Miso paste
・1/2 tsp Dashi powder (Hondashi)
Carrot & lotus root salad
・2.8 oz (80g) Carrot
・2.8 oz (80g) Lotus root
・2.5 oz (70g) Canned tuna
・1-2 tsp Olive oil
・1 tbsp Mayonnaise☆
・1/2 tsp Soy sauce☆
・1/2 tsp Sugar☆
・A pinch of Salt and pepper☆
Direction
1.  [Japanese chicken rice]Cut the chicken into tiny pieces. Season it with ★, and cook in a pan. Mix the chicken with cooked rice. Sprinkle minced green onion as you like.
2.  [Miso soup]Cut all the ingredients for miso soup into small pieces or slices. Simmer them in water until vegetables are soft (add dashi powder as needed). Turn of the heat, and dissolve miso paste.
3.  [Carrot & lotus root salad]Shred carrot and thinly slice the lotus root. Stir-fry them with oil until soft. Cool for a while, and mix it with canned tuna and ☆. Stir to combine.
2. Sukiyaki Beef Hot Pot Udon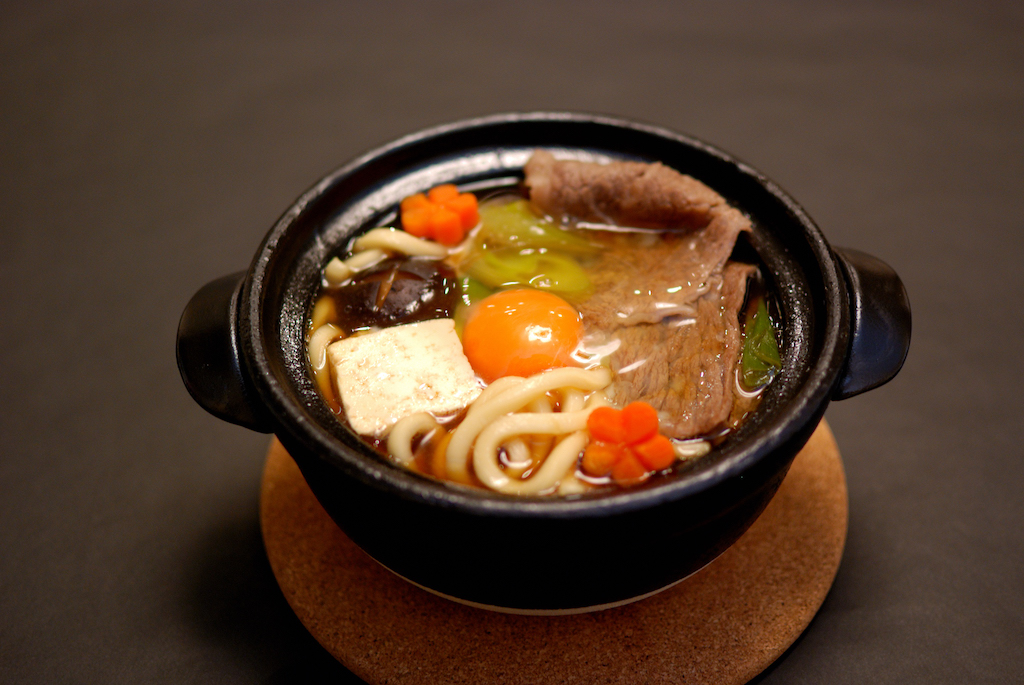 Ingredients (for 1 serving)
・6.3 oz (180g) Boiled udon noodles
・2 oz (60g) Thinly sliced beef
・2 oz (60g) Green onion
・2 oz (60g) Tofu
・1 oz (30g) Carrot
・1 Shiitake mushroom
・1.25 cups (300ml) Water
・3 tbsp Soy sauce★
・2 tbsp Sake★
・2 tbsp Sugar★
・1 tbsp Mirin★
・A pinch of Dashi powder (Hondashi)★
・1 Egg (for topping)
Direction
1. Cut green onion, tofu, and carrot into small pieces.
2. Put water and seasonings ★ into hot pot. Add green onion, carrot, and shiitake mushroom. Simmer over medium heat.
3. Cook the beef in a different pan. Remove as soon as both sides change color.
4. Prepare boiling water. Place udon noodles in a bowl and pour boiling water over the noodles to loosen them. Drain the water well.
5. When the ingredients in the hot pot are cooked, add tofu, beef, and udon. Simmer on low heat for 2-3 minutes.
6. Turn off the heat, and crack an egg on top. (Cook the egg as you like.)