1. Miso Stir-fried Eggplant and Pork with Myoga Recipe
Ingredients (for 2 servings)
・7 oz (200g) Eggplant
・5 oz (140g) Pork belly
・2 oz (60g) Onion
・1 oz (30g) Bell pepper
・1/2-1 tsp Chili pepper
Seasoning★
・1.5 tbsp Mirin
・1.5 tbsp Sake
・1.5 tbsp Sugar
・1 tbsp Miso paste
・2 tsp Soy sauce
・1-2 tsp Grind sesame (optional)
Topping
・ Myoga (Japanese ginger)
Direction
1. Shred myoga for topping. Cut eggplant and pork into bite-sized pieces. Thinly slice onion and bell pepper.
2. Fry pork in pan until crisp and you get 1-2 tablespoon of pork fat. Remove pork from pan once.
3. Fry eggplant in pork fat. Add onion, and stir-fry until they are soft.
4. Add bell pepper and chili pepper. Stir-fry for a while, and add seasoning [★].
5. Return pork to pan, and stir to combine. Sprinkle myoga when eating.
Ready to eat!
2. Rolled Eggplant with Pork Recipe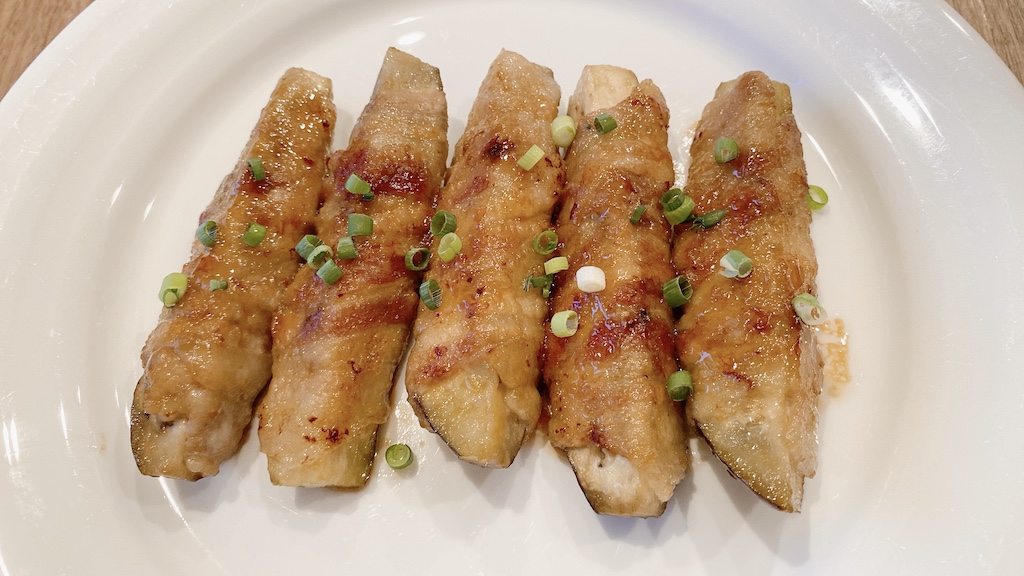 Ingredients (for 2 servings)
・4.5 oz (130g) Eggplant
・4 oz (110g) Thinly sliced pork belly
・1 tbsp Flour
・1/2 tsp Oil
Sauce★
・1 tbsp Sake
・1 tbsp Soy sauce
・1 tbsp Mirin
・1/2 tbsp Sugar
・1 tsp Grated ginger
Topping
・Minced green onion
Direction
1. Cut eggplant into sticks.
2. Wrap thin pork belly around eggplant.
3. Thinly coat them with flour.
4. Cook in pan until eggplant get soft, and pork get crisp.
5. Pour sauce [★]. Simmer a little, and toss with sauce.
Ready to eat!