What Is Red Pickled Ginger and How Is It Used?
Red pickled ginger (beni-shoga in Japanese) is shredded young ginger soaked in plum vinegar. It's red in color, as the name suggests, and that's because of the plum vinegar which is made from plum, salt, and red shiso.
The color of plum vinegar becomes beautiful red gradually while making umeboshi (pickled plums) because the color of red shiso is actually transferred to the pickling liquid.
Click here to see more about Red Pickled Ginger
Red Pickled Ginger vs Sushi Ginger
Red pickled ginger has great pungent taste of ginger, but it's not too strong. And you would feel nice and mild sourness comes from plum vinegar.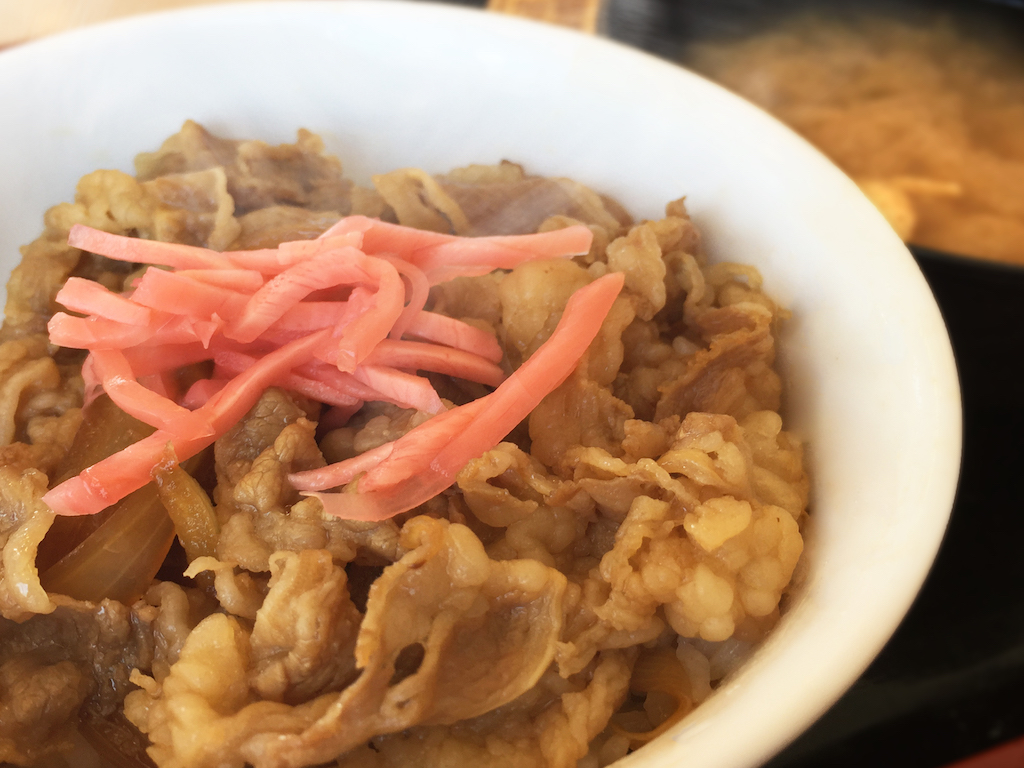 Japanese people like to use it as a topping when eating beef bowl, yakisoba, tonkotsu ramen, etc. Also, it's often used as a ingredient in takoyaki and okonomiyaki.
The refreshing pungent taste of red pickled ginger with great flavor of plum vinegar matches so well with those rich and strong taste of Japanese dishes.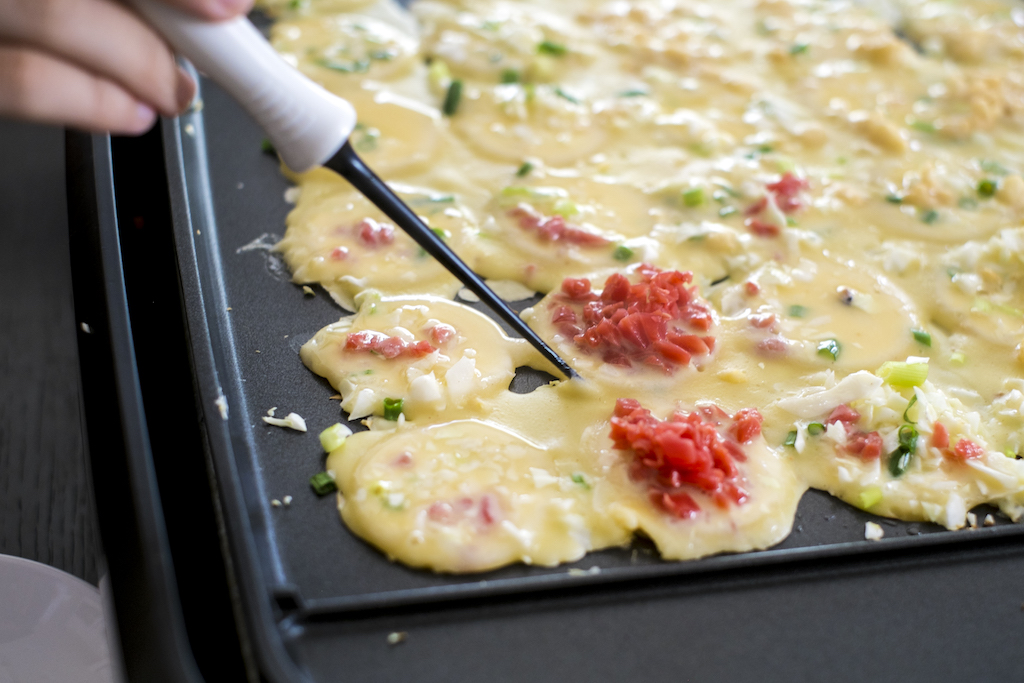 Good Substitutes for Red Pickled Ginger
To make genuine style of Japanese dishes, sometimes toppings are essential! Red pickled ginger might be not really famous in the world, but it definitely upgrades dishes with the refreshing delicious taste.
You can probably find it at Asian grocery stores or Japanese one. But, what if you can't find any of it?
Here, I want to introduce the best 5 substitutes for red pickled ginger!
1. Pickled Plums (Umeboshi)
As you can see the above, the flavor of red pickled ginger comes from the plum vinegar which is the liquid obtained by making pickled plums (umeboshi).
So, why not using pickled plum itself as a substitute for red pickled ginger.
There are various types of pickled plums, such as relatively sweet ones that are pickled with honey.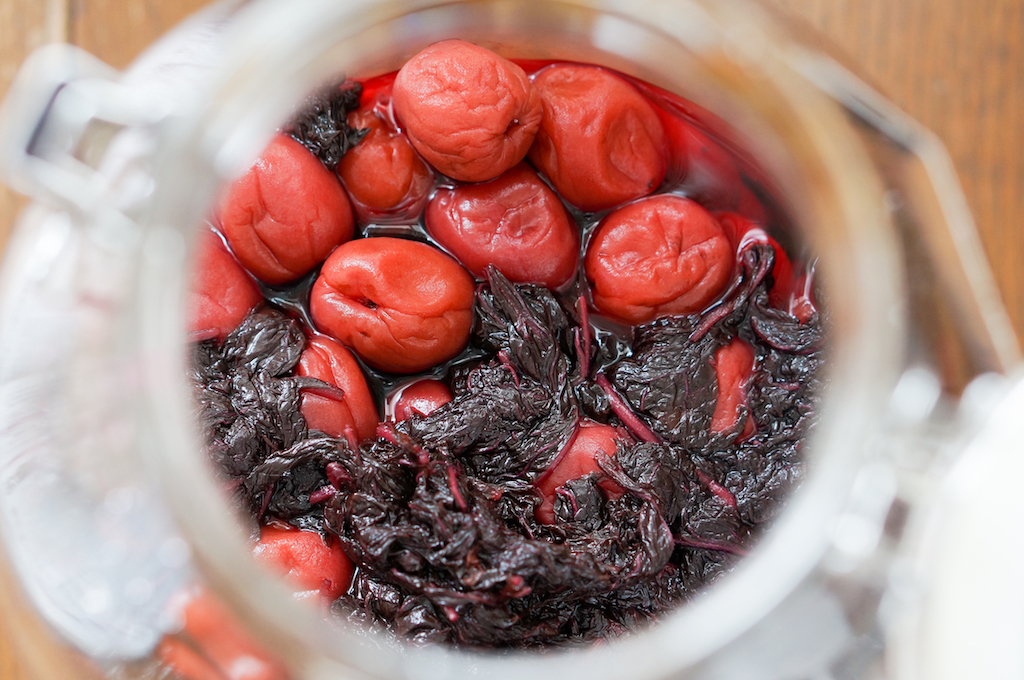 If you use plums instead of red pickled ginger, the normal pickled plums that are pickled with red shiso leaves are recommended. This should be better choice because it's not sweet but salty and has flavor of red shiso just like the red pickled ginger. The red color of the plum is also nice to color meals.
If you are not good at the salty pickled plums, it's totally fine to use sweet flavor pickled plums instead.
紅しょうががなかったから梅干しで代用 pic.twitter.com/aOZBkyhoo2

— ざきのこ (@tabascochan_) July 20, 2017
2. Sushi Ginger (Gari / Sweet Pickled Ginger)
Gari is served next to sushi, so it's also called sushi ginger. Sushi ginger and red pickled ginger are almost the same in term of they are both pickled ginger. But the difference is that sushi ginger is made by soaking in sweet vinegar sauce.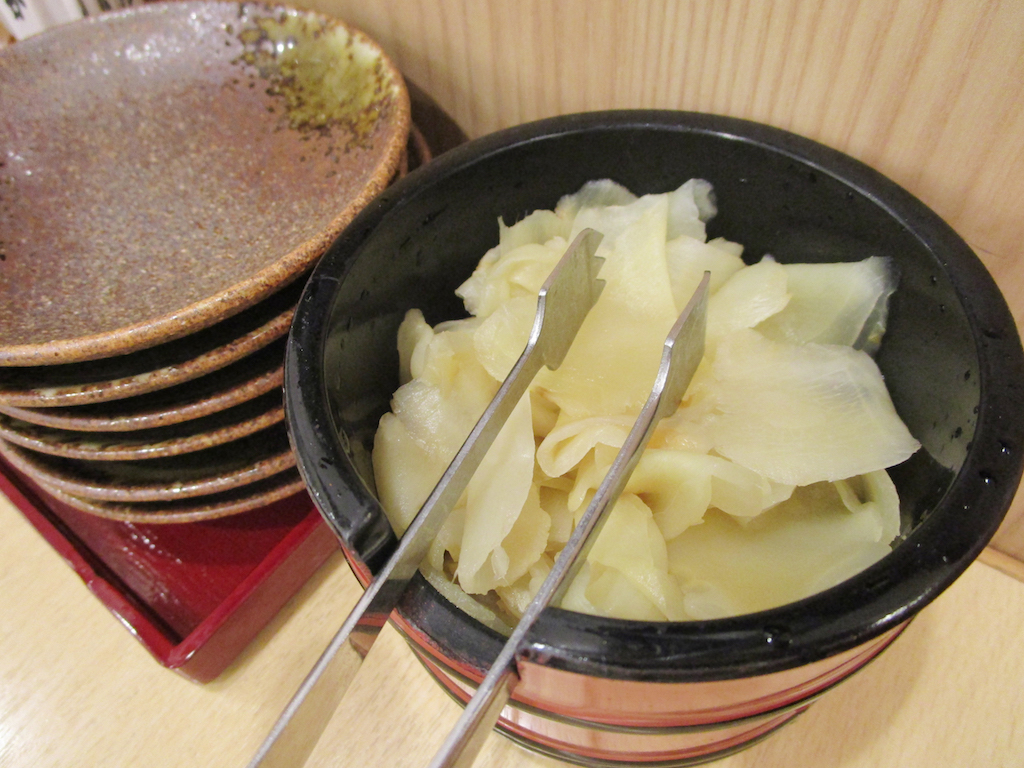 Since it's sweet and sour, it's a little different from the impression of red pickled ginger. But the pungent taste of ginger will be good accent for cooking.
If you use sushi ginger as a substitute for red pickled ginger, you should probably slice them thinly in advance.
By the way, although you need plum vinegar to make red pickled ginger, sushi ginger only needs sugar and rice vinegar. So, you may think making sushi ginger at home is easier than red pickled ginger…
If you make homemade sushi ginger, I recommend to mix the following ingredients to make sweet vinegar sauce.
・0.85 cup (200ml) of Rice vinegar
・5 tablespoons of Sugar
Using young ginger is highly recommended. But if you can't find any of them, you can use old ginger too.
手作り牛丼!

紅生姜の代わりにガリで
味醂醤油お酒ちょい塩でタマネギとコトコト煮込みます😄 pic.twitter.com/2GWBaIImAI

— ◆た い ち ゃ🇫🇷 ∞ 2店舗目準備 😘 (@Tai67830995) May 19, 2020
3. Shibazuke
Shibazuke is Kyoto-style chopped vegetables pickled in salt with red shiso leaves. Usually it's made from cucumber and sometimes egg plant.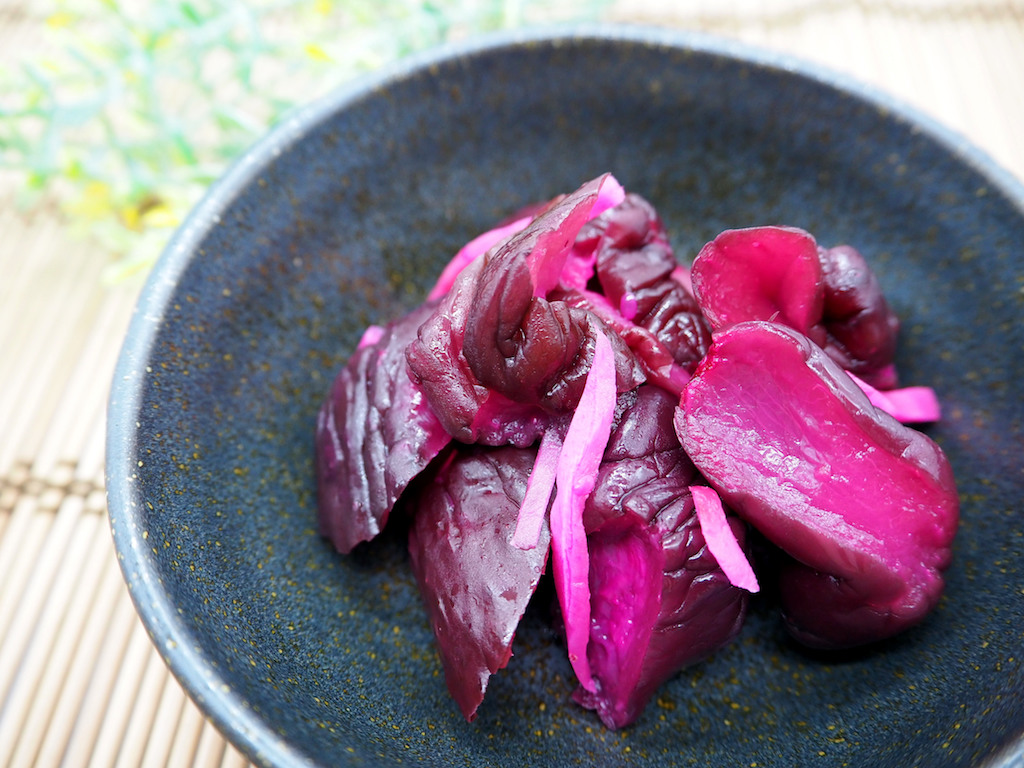 Because of the red shiso, I think the taste itself is closer to red pickled ginger than pickled plums or sushi ginger.
You can feel great flavor of red shiso which is similar to red pickled ginger, and the red color of shibazuke is also good thing for being substitute.
Another good thing is that shibazuke has nice and crunchy texture, so you can enjoy it when eating!
By the way, even though it originated in Kyoto, it is widely eaten nationwide.
牛丼。ご飯は発芽玄米、紅生姜の代わりに自家製柴漬け。野菜炒め。豆腐とワカメのお味噌汁。生卵。 pic.twitter.com/VFadOzYivp

— 柴田よしき (@shibatay) September 3, 2015
4. Kimchi
Kimchi is pickles that mainly use vegetables such as Chinese cabbage and salt, pepper, seafood salted fish, garlic, etc.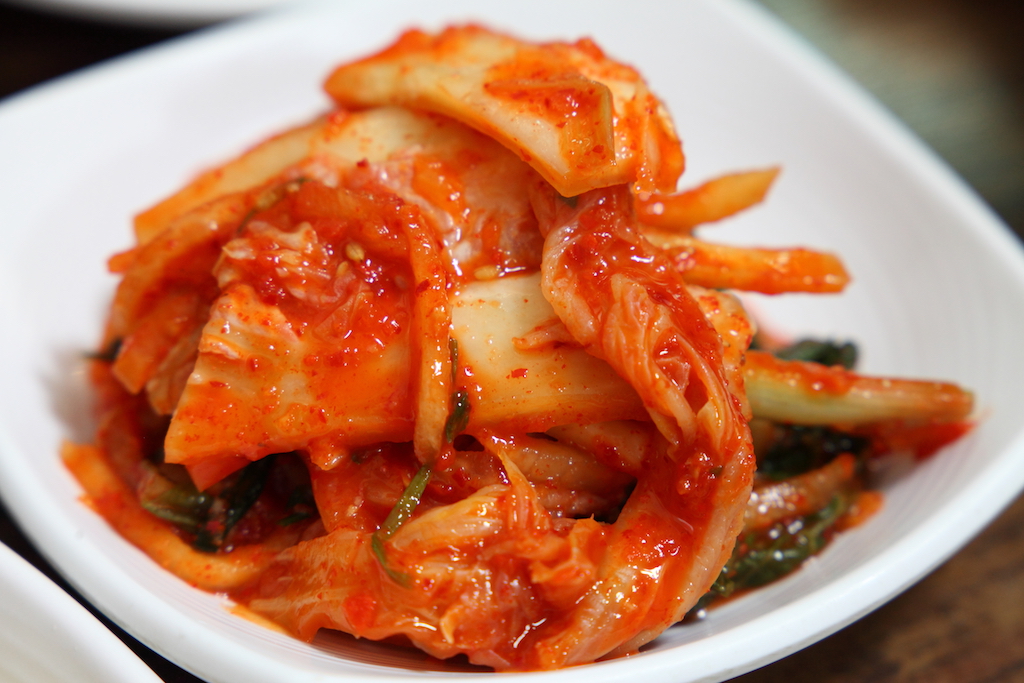 The biggest difference between kimchi and other substitutes is hot (spicy) taste of kimchi. It comes from red peppers, so the taste is totally different from the pungent taste of red pickled ginger.
Good thing about kimchi as a substitute is that it not only has hot taste but also has great umami (delicious taste) and koku (richness). So, it definitely will be delicious topping for various dishes.
I recommend to put it on yakisoba (stir-fried noodles) because the delicious taste of kimchi with red peppers goes so well with the rich sauce of yakisoba. They are perfect combination!
うーん。私焼きそばにキムチは.. pic.twitter.com/0yCkIgjret

— ゆら (@bnm_pwj) December 2, 2020
5. Homemade Red Pickled Ginger
I think it's a rare case, but if you have plum vinegar at home, you can use it to make homemade red pickled ginger. Only you need to do is shred young ginger and soak them in the plum vinegar overnight.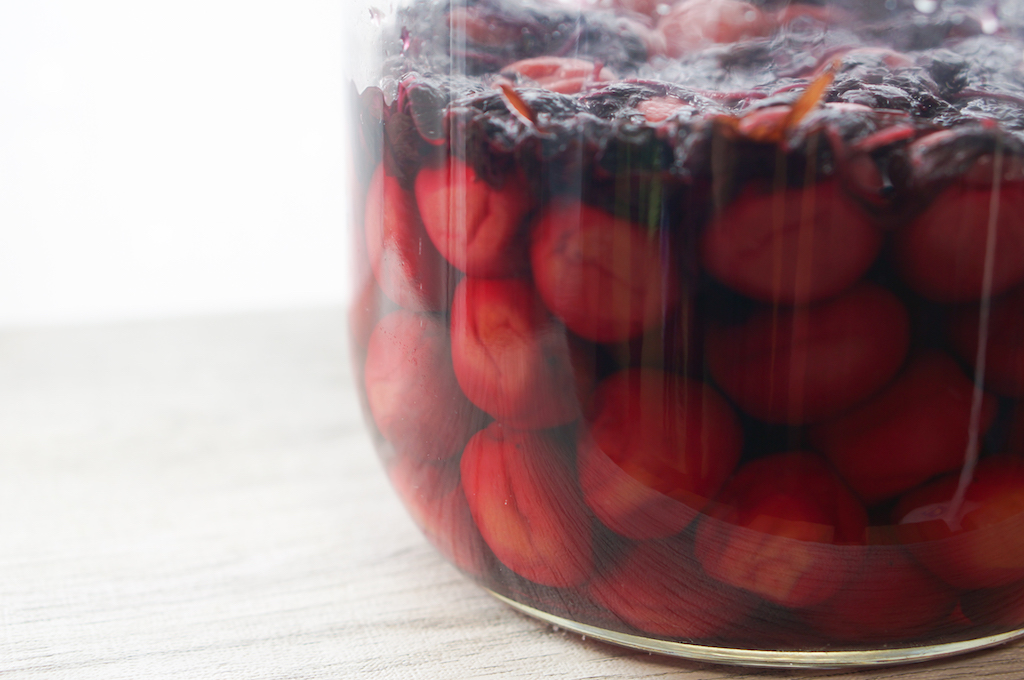 If the taste of plum vinegar is too salty, you can add a little sugar.
【こんなに簡単!無添加あんしん手作り紅生姜】
①新生姜を切って水に一晩さらして冷蔵庫保存し辛味を取る。
②水を切って乾かす(ペーパー等で拭き取ってもいい)
③梅酢と砂糖に漬けて一晩経ったら完成。 pic.twitter.com/Cg2SdiFKGS

— りえし (@riesea) October 9, 2016
Conclusion
How was the best 5 substitutes for red pickled ginger?
If you can't find any beni-shoga at stores, please try to use those!
Also, please try to make your own pickled ginger at home if you have a chance (^o^)