Biography
・DOB: 4/3/1988
・POSITION: Pitcher
・BAT/THR: Right/Right
・HEIGHT: 6′ 0″
・BIRTHPLACE: Tochigi city, Tochigi (栃木県栃木市)
・SCHOOL: Chuo University (中央大学)
・DEBUT: 4/15/2011
---
Pitching Leader
Saves (2016)
---
Career Highlights
Rookie of the Year (2011)
---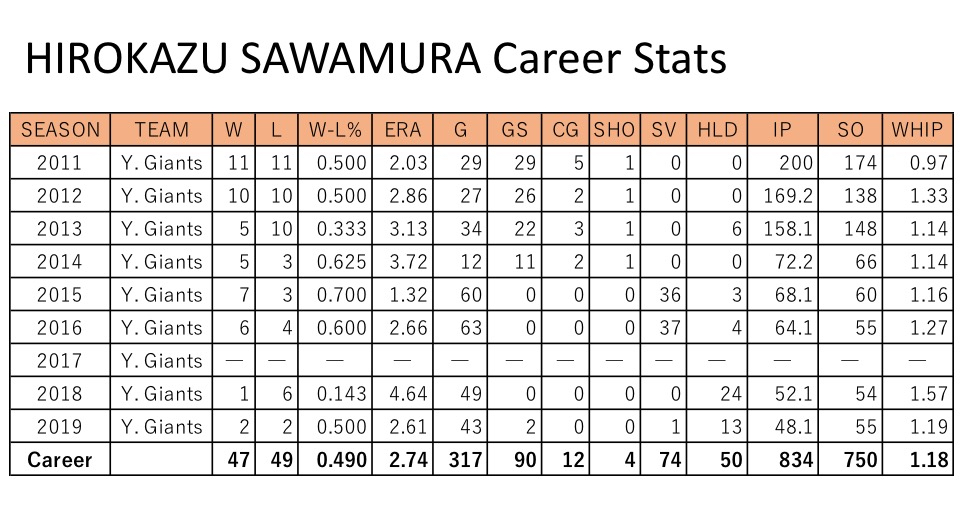 In 2017, paralysis remained on his chest nerve due to acupuncture gotten by the team trainer. It eventually caused his shoulder injury, and he couldn't pitch for a year. Recovered the following year.
In 2020, even though he started season as a relief pitcher, he had to play in the minor league after few games done for getting into shape due to his unstable pitching.
On September 7th, he broke in with the Chiba Lotte Marines as a relief pitcher.
チームの思いは一つ !リリーフ登板の千葉ロッテ(@Chiba_Lotte)・澤村投手が勝利を掴み寄せる好投をみせた!https://t.co/wWH2MqGqhX #澤村拓一 #chibalotte #パーソルパ・リーグTV pic.twitter.com/vUt0JGo2Yy

— パ・リーグ.com / パーソル パ・リーグTV【公式】 (@PacificleagueTV) October 7, 2020