1. Somen Noodles in Egg Soup & Daikon Mochi Breakfast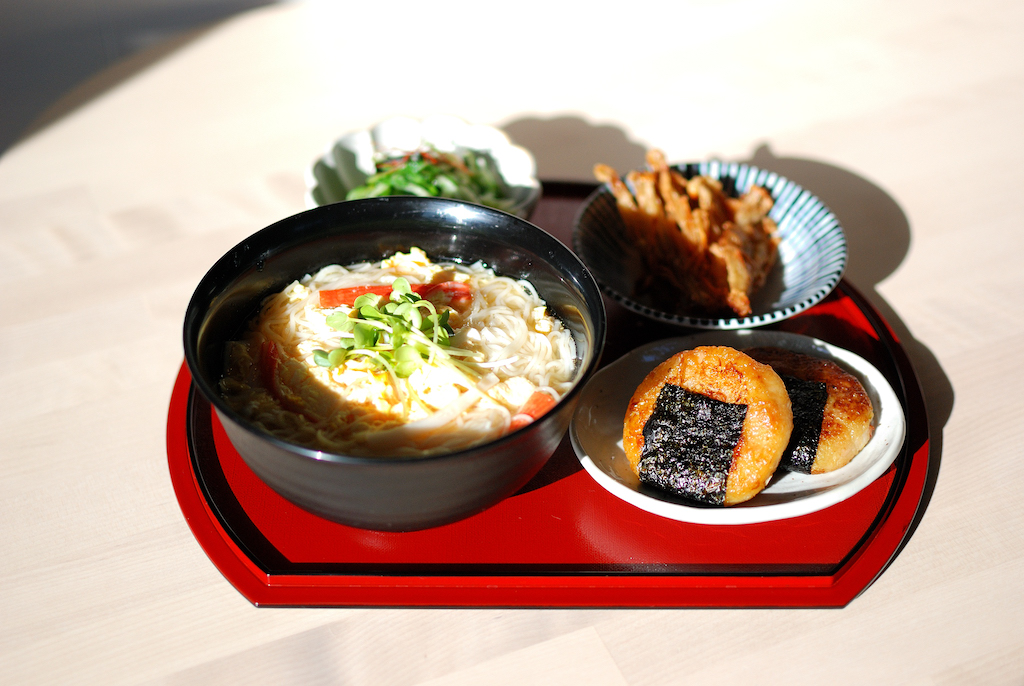 Ingredients (for 2 servings)
Somen noodles with egg soup
・3.5 oz (100g) Somen noodles
・2 cups (500ml) Water★
・2 tsp Chicken stock powder★
・2 tsp Soy sauce★
・1/2 tsp Grated ginger★
・2 Eggs
・2 oz (60g) Imitation crab meat
・1 tsp Sesame oil
Mizuna & wakame salad
・1.4 oz (40g) Mizuna (Japanese brassica)
・1-2 tbsp Dried wakame seaweed
・1 tsp Sesame oil☆
・1/2 tsp Chicken stock powder☆
・1/2 tsp Soy sauce☆
・1/2 tsp Sugar☆
・1/3-1/2 tsp Grated garlic☆
・A pinch of Salt☆
Daikon mochi
・12.3 oz (350g) Daikon
・1 oz (30g) Green onion
・1 oz (30g) Ham
・0.7 oz (20g) Flour
・0.7 oz (20g) Potato starch
・1/2 tsp Dashi powder
・2 tsp Oil
・1/2 tbsp Sake
・2 tsp Soy sauce
・1 tsp Mirin
・1.5 tsp Butter
・Nori seaweed
Fried enoki mushroom
・1.7 oz (50g) Enoki mushroom
・1.5 tsp Soy sauce
・1 tsp Mirin
・A pinch of Garlic powder
・1 tbsp Potato starch
・1/2 tbsp Flour
・Oil for frying
Direction
1.  [Somen noodles]Boil somen for 1.5 minutes, and drain hot water. Make soup by mixing ★, and add beaten egg and imitation crab meat. Finally pour a little sesame oil after turning off the heat. Put somen in a bowl, and pour the soup.
2.  [Mizuna & wakame salad]Pour hot water in dried wakame seaweed, and drain hot water. Mince the wakame. Cut mizuna into bite-sized pieces. Cook it in microwave at 500W for 1.5 minutes. In a mixing bowl, combine mizuna with wakame, and all the seasonings ☆.
3.  [Daikon mochi]Grate daikon, and drain water. Mince ham and green onion. In a mixing bowl, combine drained daikon with ham, green onion, flour, potato starch, and dashi powder.
Shape into a circle. Oil the pan, and cook over medium heat until slightly charred on one side. Flip it over, and pour sake. Cover, and cook for 6 minutes on low heat.
When it's cooked, add butter, soy sauce, and mirin. Finished by wrapping with nori seaweed.
4.  [Fried enoki mushroom]Tear enoki mushrooms into bite-size pieces. Season them with soy sauce, mirin, and garlic powder. Mix flour and potato starch in a bowl, and coat enoki with the powder. Fry in oil for 2 minutes on each side until golden brown.
2. Tomato Chicken Curry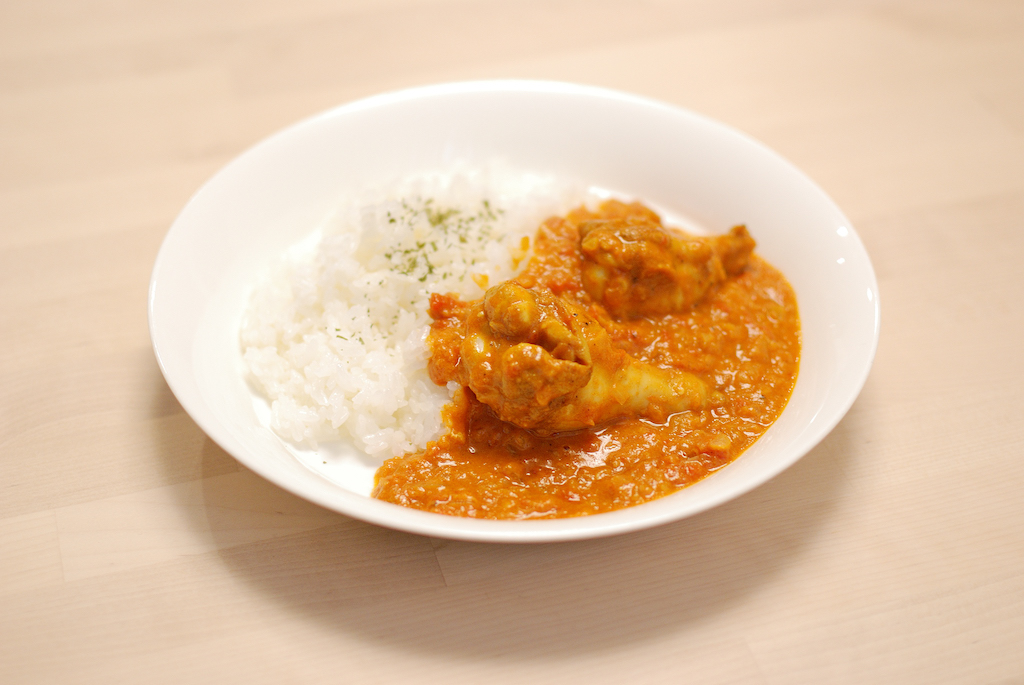 Ingredients (for 2 servings)
・Cooked rice (as much as you want)
・8.8 oz (250g) Chicken (drumette)
・2 tsp Curry powder
・1 tsp Sake
・A pinch of Salt and pepper
・5 oz (140g) Onion
・1 clove of Garlic
・1 piece of Ginger
・2 tbsp Oil
・2 tsp Curry powder
・1 tsp Sugar
・1 tsp Consomme (Stock powder)
・7 oz (200g) Canned tomato
・0.4 cup (100ml) Milk
・1 tsp Salt (Add little by little)
・1.5 tsp Honey
・1.5 tbsp Butter
Direction
1. Mince onion. Grate garlic and ginger. Season the chicken with curry powder, sake, salt, and pepper.
2. Cook the surface of chicken, and remove from pan once.
3. Oil the pan, and stir-fry onion until soft. Add garlic and ginger. Cook for a while, and add curry powder, consomme, and sugar. Stir to combine.
4. Add canned tomato, salt, and milk. Return chicken to the pan. Simmer until you have enough curry for 2 people.
5. Turn off the heat. Add honey and butter. Mix well. Check the taste, and add more salt as needed.