Do you like spicy ramen?
When you feel like eating spicy food, a bowl of ramen must be one of the easiest dish!
But, what if you only have normal instant ramen at home…?
Today's menu I will introduce is that you can easily upgrade your regular instant noodles to BEST SPICY RAMEN.
By adding some seasonings, you can feel seriously delicious flavor with the spiciness.
Please check it out!
Ingredients (for 1 serving of spicy ramen)
・1 pack of instant ramen (soy sauce flavor)
・2 oz (50g) Chinese cabbage
・1/2 – 1 teaspoon Miso paste*
・1/2 – 1 teaspoon Gochujang
・Chili oil (all you want)
・Red pepper or Chili powder (all you want)
Topping
・1 Boiled egg
・Minced green onion
*If your instant ramen is miso flavor, you can use soy sauce instead of miso paste.
Direction
1. Prepare water according to the package of your instant ramen. Boil Chinese cabbage with the water in your pot.
2. Add miso paste and gochujang. Stir well until they are melted.
3. Add chili oil and red pepper (chili powder) as much as you want.
4. Add the separate packet of flavoring (only half of them). Taste the soup, and if you like more spicy, you can add red pepper or chili oil. If the taste is too weak, please put more seasoning packet.
5. Put noodles in the soup, and cook until it's ready.
Ready to eat!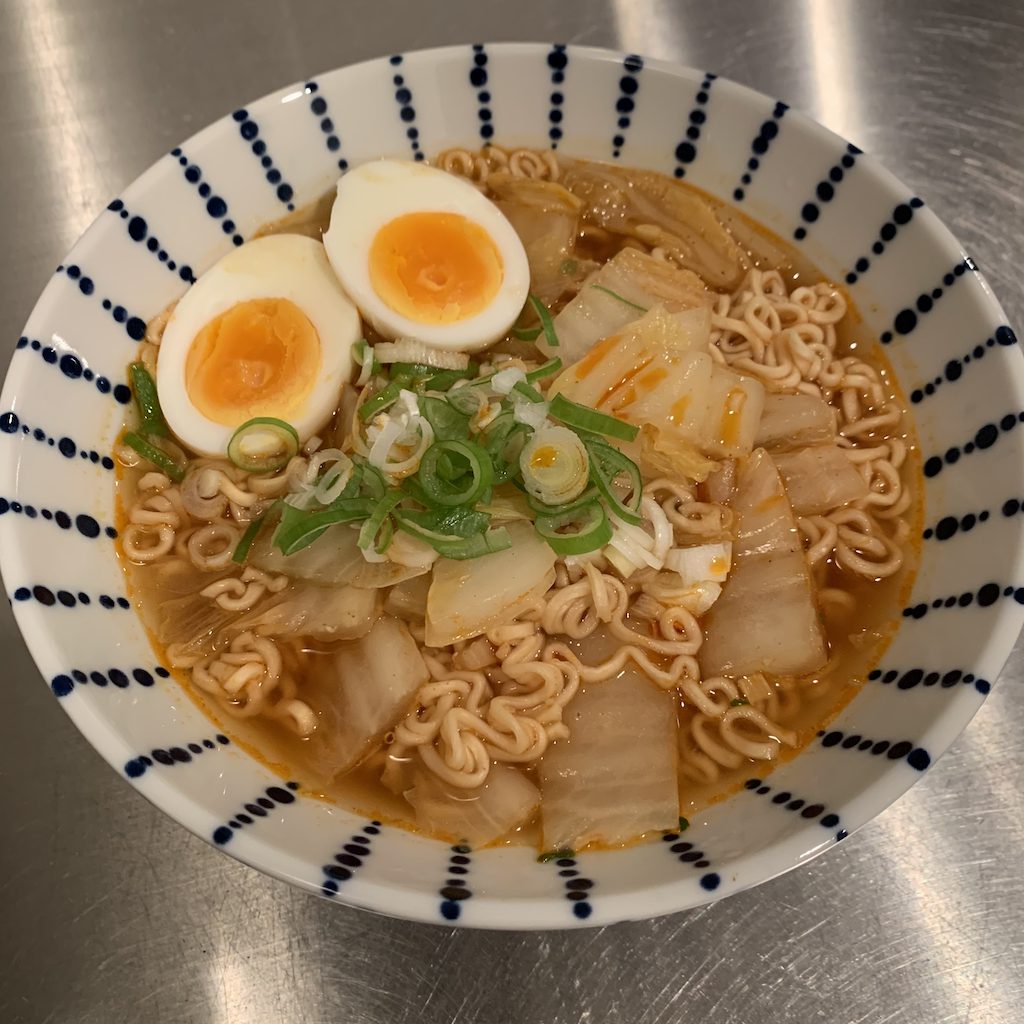 The flavor of chili oil (ra-yu) is come from sesame oil, so I bet it matches with any flavor of instant noodles.
You can use miso flavor, chicken flavor, tonkotsu flavor, etc. besides soy sauce version.
Please adjust the amount of red pepper and chili oil otherwise it could be too hot for you.
If you are not good at very hot food, I highly recommend to use chili powder instead of red pepper.
Also, adding a little bit of sugar should add great umami to the ramen too.
Enjoy your noodles!
More Instant Ramen Hacks are here:
Upgrade Your Ramen BEST MISO RAMEN
How to Make Best Yakisoba with Instant Noodles
Upgrade Your Ramen Best Cold Ramen Salad